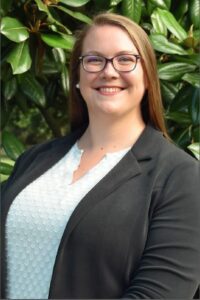 Kathrynn Johnston is a paralegal at Rhodes Law Firm, PLLC, and has been with our firm since 2016. She works closely with Attorney Rhodes on many matters and oversees the rest of our staff, ensuring we meet our high standards of client service in legal matters. Her primary areas of experience are estate administration and estate planning, including updating beneficiary designations.
Kathrynn grew up in southwest Louisiana and attended Louisiana College, where she earned a Bachelor of Arts in biblical studies. Her continuing education brought her to Wake Forest, where she earned a Master of Arts in intercultural studies from Southeastern Baptist Theological Seminary (SEBTS). Her work at our firm inspired her to return to school, and she is now pursuing her Juris Doctorate at Campbell University's law school in Raleigh.
When not working or studying, Kathrynn likes to spend time with her husband Will, who is a SEBTS Ph.D. student, and their border collie Jax. They are active members of Imago Dei Church in Raleigh. Kathrynn also enjoys cooking, reading fiction, and learning new things.